We Are Business Focused Developers.
Working with brands that change the world.
We will address your digital challenges with a commercial business outcome approach by:
Improving how your website / app works
We connect your platforms and make them work seamlessly together
We train your team on better digital processes.
We work as an extension of your team by helping you make digital the backbone of your business.
The first step is just one cup of coffee to simplify your digital contact us today for an initial discovery coffee.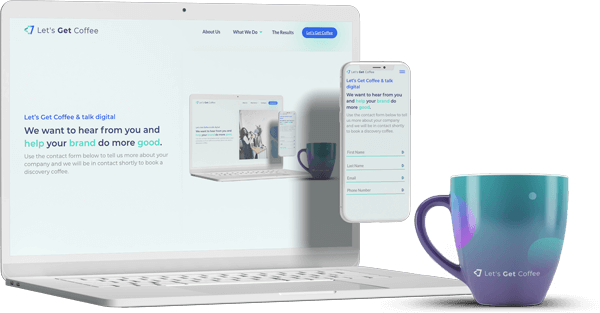 Coding done right for brands doing good.
We love to code and we will make sure what you end up with is bespoke to you. Our approach will :
Improve how your website converts. 
Connect your platforms and make them work seamlessly together
Train your team on better digital processes.






Meet the team of Let's Get Coffee
Katie Lacy
Founder
Delivering results by increasing your brand awareness online via your website, social media and SEO.
Firstly, let me say thank you for wanting to read more about my experience and qualifications.
I have 20 years of computer experience, 10 of that commercial, started coding when notepad++ was the only developer tool available.
I've build many applications top companies like the above are still using today. Worked within teams from 2 to 15, leading a few and have been the only female developer in most companies with up to 50 employees.
I have been asked many times what do I prefer frontend and backend development and that's like asking me what do you prefer chocolate or sweets both are different and satisfying in many ways.
I create web solutions and bring ideas to the table with a business and realistic approach with profits margins and ROI's in mind.
Hi, nice to e-meet you.
I am Katie – an experienced coder with over 10 years experience.
An experienced coder and creator, I have spent the past 10 years putting together bespoke websites and advanced web applications to delight clients.
In my spare time, I enjoy walking my dog Charlie. As well as catching new movies, going to the gym, paddle boarding and making paper craft.
As consultants what can we help you achieve?
We ask the right questions to find the best solutions for your digital.
Save money by automating tasks.

Increase client conversions.

Make your digital world less stressful.
Our services to enhance your brand online.
Want to talk more about this?
Please fill out the form below and one of our team will contact you shortly. While you wait, put the kettle on enjoy a coffee and take your time to process the next steps to your business with Let's Get Coffee.