Your Business Focused Developers.
We work as an extension of your team by helping you make digital the backbone of your business.
Let's Get Started >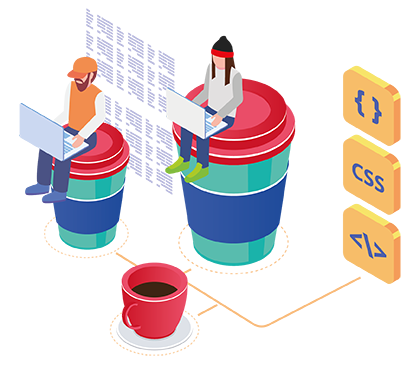 Imagine developers who understand your business. 
We can apply our business knowledge to any development project to ensure a commercial success outcome.
Having a full time developer in house can be expensive you would need to account PAYE and the cost of a new person in the office.
Maybe your thinking a junior would be a good choice but if something goes wrong with your app or website how would that effect your business?
Instead of paying for someone full time, why don't you find experienced local developers who will work when you need them to? Who also have knowledge of business like us.
We can keep your website up to date and take what you have and make your digital perform better.
You can find some more information about us in the about section and if we sound like a good fit Let's Get Coffee and have an initial discovery meeting.
Let's get client experiences to do the talking.
Have not bothered to reply to my email

Steve Kearns
10:27 18 Nov 22
The LGC team are just fantastic. Nothing is too much trouble for them and they happily go the extra mile to get things right for the client. I'm really happy with their service and would recommend them highly.

Katie and Oli are great to work with. Really quick and efficient, and always making suggestions to improve – would definitely recommend!

Tash at Alitex
10:19 16 Oct 20
We worked closely with LGC to achieve a content managed website that showcases our services and projects and we are delighted with the outcome. Being able to make changes and additions to the website ourselves quickly and easily was a high priority and the functionality to do this is completely user-friendly. Just what we were looking for.

Sally Hales
13:48 09 Jul 20
Working with the guys at LGC is refreshing, they are quick to respond. We would highly recommend them and we enjoy our partnership with them, we are like one big team!

fandango digital
13:48 23 Jun 20
Absolutely excellent service from Let's Get Coffee, they created an eCommerce website in an incredibly short timescale that continues to function without issues. Thoroughly recommend!

Steve Dobson
15:54 17 Mar 20
Used Katie and Oli for a project at work, fantastic professional service, really knowledgeable team and nothing too much hassle for them. Katie knows the systems inside out and didn't have any difficulties integrating an ecommerce site with our internal systems. Big thanks to Oli for bringing a little more life to our site/brand. Highly recommended team.

Rosie Acton
15:49 17 Mar 20
Excellent service – got me out of a weekend hacking emergency as a completely unknown, new client – no fuss no bother. Now have reinvented my website with new modern design and it looks great. Many thanks to a great team at Let's Get Coffee

Yoga for Harmony
19:01 23 Jan 20
We did a lot of due diligence on Let's Get Coffee before deciding to go with them for all of our marketing, app development, website and graphic design. Now we wouldn't go anywhere else, highly recommended indeed!

Fraser Duncumb
20:03 29 Dec 19
Fantastic company providing an invaluable service. Katie and Oli are a pleasure to deal with as are the rest of the team. The Lets get coffee team have created multiple websites for me, they are still currently hosting them, doing our social media and emails. My only regret is that I didn't meet them sooner. Whole heartedly recommend.

Tom Waller
09:37 13 Dec 19
On behalf of Kiwi Recruitment: LGC was great to work with – a talented team of designers who are keen to meet your highest expectations. Friendly and professional, we would definitely recommend them!

Ellie Baldwin
09:03 04 Dec 19
Amazing team! Great to work with!

Saša Krajnc
21:30 02 Sep 19
LGC is a friendly and professional team offering a first class web design service. I am delighted with the results of my landing page. I feel it conveys exactly who I am and is reflective of the sensitive work I do. Amazing. Heartfelt thanks guys!

Donna Sadler
14:36 07 Aug 19
We greatly enjoyed working with Let's Get Coffee and we're delighted with the results. We've received many compliments about the look and feel of our new website. They are a friendly and professional team to work with and capable of interpreting briefs perfectly as well as putting forward innovative ideas that raise the bar in website design. The process has been slick, collaborative, inclusive and enjoyable and we wouldn't hesitate in recommending their services. A 5 stars from us!

Jon Witcomb
15:01 01 Apr 19
These guys are great. I wish that I'd met them first. Never a problem to contact them and they are very solution driven. No nonsense – a breath of fresh air. They come highly recommended.

Having worked with Let's Get Coffee for over a year now, I'm always impressed by the dedication, professionalism and experience they bring to web development and IT support. No problem is ever too small or too big and they are always on hand to help ensure our website and server is running smoothly. I would highly recommend working with them!

CHOC Chick
10:04 18 Feb 19

Bartek Zielinski
09:38 25 Nov 18
Having worked with let's get coffee as a client and then business partner, I have to say that you won't find quality at this price anywhere else. They are a fantastic small team who will go the extra mile to make sure you meet your business needs. Thanks guys

Fast, effective and a pleasure to deal with.Always willing to go the extra mile!

SAGAMORE COMMUNICATIONS
18:01 12 Mar 18
Having worked with several web design agencies, I was so impressed with Let's Get Coffee's approach. They were friendly, professional and extremely willing to meet my requirements. Katie was always very prompt in dealing with requests and changes and very patient when I was completely IT illiterate and took the time to help me understand what it was she was doing. Result, my website looked amazing. I wouldn't hesitate in recommending them. Thank you.

Hayley Bowerman
13:35 05 Mar 18
‹
›
View All
Let's get started…
Pop your details in below, and one of our team will get back to you soon.